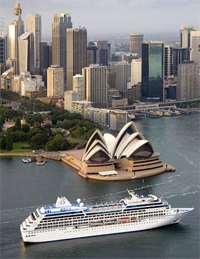 Life is vastly different on Oceania cruises voyage, an experience granted by their luxurious mid-sized ships. Consequently, the cuisine soars to new heights, service excels beyond expectation, and amenities are impossibly indulgent.

Each of our voyages is an invitation to discover your next travel story and reignite your passions. Experience faraway places that you have always dreamed of. Encounter new ways of looking at the world and travel to the far corners of the globe. Savor your experience with imaginative insider tours that immerse you in the heart of the destination's culinary and cultural traditions.
The moment you step aboard you'll know it is a distinctively different style of cruising. With a perfect ratio of staff to guests, the onboard life encourages you to flourish & experience the world from a vantage point that larger vessels simply can't furnish. The onboard atmosphere is exceedingly hospitable, similar to that of a country club. With no need for tuxedos or evening gowns, you can relax and be yourself while cruising to a collection of exotic destinations. Indeed the experience is sublime, especially considering how surprisingly affordable it is.
Take advantage of time during your Oceania Cruises voyage to focus on one of the elements that matters the most in life – your wellness. Elevate your well-being to new heights with our unrivaled array of wellness options aboard our ships.
Dining - Our chefs share in your quest for finding the best food around the world – for us, cuisine is not only an art form, it's an exploration and expression of a culture, a connection that continues on long after the meal has ended.