Discover a new age of sail, where the traditions of the past are combined with the modern comforts and amenities of the present. Star Clippers Tall Ships are perfect for cruising in casual elegance. The Mega Yacht Iitineraries range from the sun-kissed Mediterranean to the exotic Far East and the Caribbean.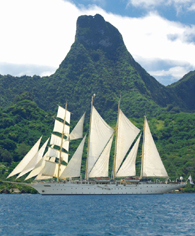 On board you will enjoy a relaxed atmosphere, friendly crew, and international cuisine, all in pampered comfort. If you're a boating enthusiast, you can choose to lend a hand hoisting the sails, you can climb the mast, enjoy water toys from the watersports platform or you can just lay back and let the crew do all the work.
Inspired by the legendary Tall Ship, Preussen, the star Clippers flagship, the Royal Clipper has the proud distinction of being the largest and only five-masted sailing ship built since her predecessor was launched in 1902. The Royal Clipper Boasts 42 Sails.
You might think she was an apparition from the grand age of sail, but Royal Clipper is as new as tomorrow, boasting state-of-the-art navigation systems and every comfort and luxury one could wish for. For connoisseurs of sail cruising, the 439 foot Royal Clipper offers the ultimate sea-going experience, balancing the grandeur, adventure and tradition of sailing with the superb service, amenities and accommodations of the finest modern yacht. Royal Clipper carries just 227 guests in luxurious style. A full 19,000 square feet of open deck and three swimming pools create a wonderfully spacious and expansive outdoor environment.