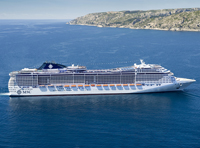 Stunning ships. Immaculate Service. Authentic Mediterranean ambiance and a gateway to some of the world's most fascinating destinations. This is the MSC Cruises difference. Discover the essence of ultra-modern cruising with MSC Cruises. This Swiss-based global cruise company with deep Mediterranean roots, is the fourth largest cruise line in the world, with a fleet of 12 cruise ships and growing.

Expect to be amazed by the endless elegance and rewarding amenities found on board. Enjoy world-class entertainment, Mediterranean-style dining and stylish bars and lounges. There's so much to do to unwind and relax on your journey. Rejuvenate with a Balinese style massage designed exclusively for MSC Cruises' guests and found nowhere else at sea. The option to lavish in luxury can be found on one of MSC Cruises' four "Fantasia" class ships - the youngest and most modern vessels in the line's fleet. There, you'll find the MSC Yacht Club, an all-inclusive private VIP club level with a personal butler and 24-hour concierge services.
Highlights of MSC's state-of-the-art ships include:
Explore destinations around the world with cruises year-round in the Mediterranean & sailings year-round from Miami to the Caribbean starting November 2015. Visit those exotic destinations you've always dreamed of seeing. Seasonal itineraries cover northern Europe, the Atlantic Ocean, French Antilles, South America, southern Africa, as well as Abu Dhabi, Dubai & Oman.