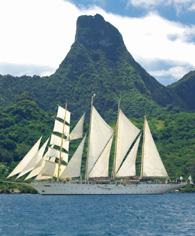 On board you will enjoy a relaxed atmosphere, friendly crew, and international cuisine, all in pampered comfort. If you're a boating enthusiast, you can choose to lend a hand hoisting the sails, you can climb the mast, enjoy water toys from the watersports platform or you can just lay back and let the crew do all the work.
Inspired by the legendary Tall Ship, Preussen, the star Clippers flagship, the Royal Clipper has the proud distinction of being the largest and only five-masted sailing ship built since her predecessor was launched in 1902. The Royal Clipper Boasts 42 Sails.
Star Clipper and her sister ship Star Flyer are as fleet as the wind and as graceful as swans. These clipper ships reflect their proud heritage in every inch of polished brass and gleaming brightwork. As thousands of feet of sail unfurl above you, you'll feel the elation of those mariners of long ago. This is Star Clippers and the adventure has just begun!